An amazingly drawn multiplayer interactive trading card game.
A role playing game with countless rewards and the option of playing both physical and digital TCGs, the best of both worlds as you play with physical cards online!!
Also before we carry on thank you for choosing to read my blog but please support us even more by liking, commenting and keep up to date with the blog by clicking the follow bottom at the bottom of the page.
Thank you again, so let's begin.
Accomplishing quests, defeating players and gaining positions in monthly the player ranking.
Play a narrative on campaign mode. Once you arrive on the island of Heptia there are many mysteries…
The first step is to pick a champion! You have the choice of 12 champions:
Onadril – Vardin Mage

Lyceran – Nepes Warrior

Swift-Blade of Maden – Astrague Warrior

Kin Gaelnath – Naiadin Hybrid

Yevelin – Vardin Warrior

Daeris – Symiosis Mage

Guardian of Feherin – Angel Hybrid

Glovedil – Nadr Mage

Aod – Naiadin Hybrid

Nevardie – Goblin Warrior

Nilvinh – Iffrit Mage

Grond – Human Warrior
Each character has a background, mechanics and voices. Each character uniquely evolves as you progress and improve on skills through the game. Once you pick a character, you will fight many different characters and monsters.
With amazingly innovative technology, you can play with or against your friends, online or in physical form! Upgrades available on PC, MAC and NINTENDO SWITCH, play online with friends!
Or you can find an opponent according to your experience, level and cards through the matchmaking system…
Don't forget: You will always need your physical cards to cast spells in Malkyrs.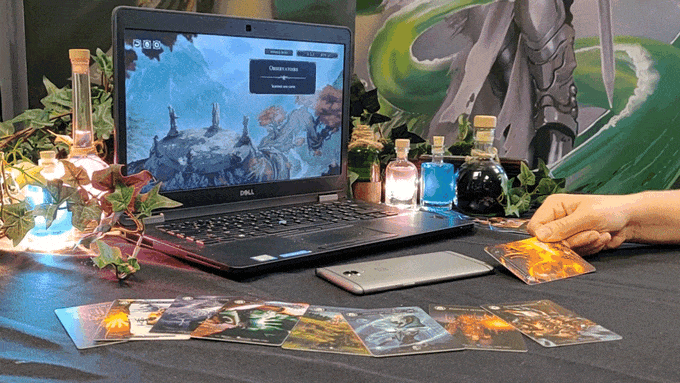 In your journey to Enardem you will have to create a deck with 10 action cards to defeat your opponents. Make a choice – spare or finish your defeated opponents… But Narkalor the goddess of the island is quite cruel – your choice may cost you if your decision displeases her.
Malkyrs the competitive interactive card game comes with hundreds of different cards and depending on your decisions, a unique outcome will be unlocked with secrets for your cards and an infinite amount of ways to play your adventure.
As a trading card game there are 3 types of cards to find on your adventure; common, rare (stronger than common) and legendary cards(very powerful.) Build your deck with 10 cards – pick only three rare cards and one legendary card.
Like the common cards; monsters, champions and traps are common.
Like all games, there are rules to follow like with each action card can only be played several times during a match. Use weapons to fight champions in the open sky arenas of the island to gain favor of the islands ruler, the goddess Narkalor.
Every week there will be a large tournament in Europe with the hope of it going global in the future that you can take part in which if you win you'll get a prize!
It is up to you how you play; lead your champion to victory, use magic to impress Narkalor or tricks to escape the island!
Funded in less than 3 hours on Kick-Starter!!
Made by an independent studio based in France by 11 people.
Why not check out the magnificent artwork that will be on their playing cards and see what the 12 characters look like and learn more about each one of them on Twitter @Malkyrs_Studio or on their Kick-Starter web page: https://www.kickstarter.com/projects/malkyrs-studio/malkyrs-the-interactive-card-game?ref=3kvyja. Become a pledge and get Kick-starter exclusive gifts as a reward for your support!
Thank you for reading!
Follow us to get notifications on when our next article will be out!